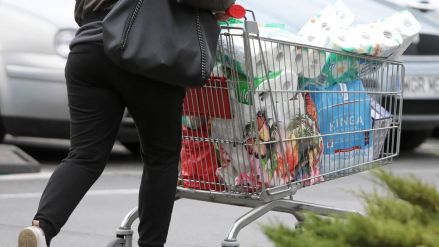 Everyone was waiting for the third world war, but mom couldn't leave the house and we were left without supplies…
see more
On the other hand, a whole group of business people was located in the so-called "thievish capitalism" mainstream, which is rather a big simplification. This group was very diversified. In the social view of that time, it was depicted by a man in a suit, white socks and loafers with tassels. He was always holding an analogue cell phone close to his ear, in size and weight compared to a cast-iron radiator. Usually, he had a lot of gold around his hands and neck. Visually - a Polish compact version of the "new Russky". There is some truth in it. As a reporter, I attended various events in different parts of Poland and remember these local business stars very well.
It was a set of different characters. Some gave the impression that they came out straight from the books of Tadeusz Dołęga-Mostowicz. Others had false identities, and many succeeded just by showing a picture of themselves with some famous persona – like Lech Wałęsa, for example. In fact, the accidental photograph could open doors for this person in varied offices and other business people environments. Everyone presumed that the owner of the photo must have had incredible influence. Let's take for instance one entrepreneur - at his conferences in a fashionable hotel - he claimed that in the underground area of his city, he owned a secret manufacture working for NASA, and the press described that without any critical thinking.
SIGN UP TO OUR PAGE
  Of course, the 'thievish assets' concept also included the mafia capital, which somehow had to legalise its profits. The term "money laundry" became popular, and "laundry" usually referred to a company dealing with washing the "dirty money", although ordinary Dry Cleaners were in crisis at the time. Al Capone took over the betting operators in Chicago and soon realised that in the same places, people were betting and eating as well. So, he also took over the services for those places, such as laundry and delivery of various products. And this eventually led him to take over the milk supplies for the residents of multi-million Chicago. Then, he experienced a shock. It turned out that the milk supply was more profitable than gambling.
Maybe we did not have such spectacular takeovers or breakthroughs, but similar efforts were also made because - there was, and still is - something to fight for. Once, I was told of a renowned town where the local "business club" organised a gala for regional entrepreneurs. The invitations were not cheap, but people could kill to get them. During that event, an auction of paintings by amateur artists was organised. To put it mildly, their work could be classified as a very Naive Art genre. And there, a real miracle happened. It turned out that people reacted most vividly to Art when given the right impulse and strong encouragement. After emotional auctions, the paintings reached prices that even widely recognised artists would envy.
Work doesn't pay off
Once I met a colleague from one of many schools I attended. We went for a pint of beer, and during the conversation, it turned out that he worked with another schoolmate of ours whose career was high-profile but not necessarily legal. Let's call him Mr X. He said, «Look, Mr X was sitting here where you are sitting now, and then he was crying to me». «Look…» - here he pointed out to a huge development investment being built right in front of our eyes - «…these are true mafias…». So, my school friend turned out to be Kassandra, predicting the coming of the VAT mafias.