Promised or damned land? World War Two and Polish émigrés in USA
Do all routes lead to the US, in particular to NY? The lion's share of the WW II emigration which was building a new life upon Hudson would have agreed on that. It's where Bolesław Wieniewa-Długoszewski changed his uniform of a chevau-légér for a bookbinder's apron and, 80 years ago, committed suicide. It's where Julian Tuwim engaged in communizing environments to eventually recognize the Polish government in exile as a bunch of reactionaries striving "for our fascism and yours". It is also where that Ignacy Jan Paderewski spent his last moments. They along with tens of thousands émigrés could have differed in everything but they were united by the hope of the American dream which, sometimes, turned out to be an American nightmare.
Soldier, diplomat, ophthalmologist, writer – Bolesław Wieniawa-Długoszewski moved into history as a man of numerous talents. Sadly, overseas he couldn't use any of them – at the time he emigrated to the USA, he spoke English fairly well but not well enough to become a popular writer or poet. He hadn't dealt with patients for dozens of years, and that he should be kept away from the army and diplomacy the prime minister Władysław Sikorski saw to it very well…

But first things first – Wieniawa's odyssey begins in June 1940 when Italy enters the war on the side of the III Reich. It soon becomes clear that the Polish embassy upon the Tiber cannot function any longer and its head, i.e. Wieniawa shall go home. Our hero, however, enjoyed much liking from the Italians and he was offered to stay in Rome as a private individual. He had no intention of doing so – on June 12 we can see him as, together with other members of the embassy's personnel, he is travelling on a diplomatic train heading for France. The invasion of France is under way and the lightning progress made by the Wermacht results in that the passengers will never set foot upon the Seine for good.

After six days they reach Lisbon and although Długoszowski left Italy having accomplished his mission (thanks to him 8 thousand Poles, many of whom joined the ranks of the restored Polish army, passed through Italy to France) nobody is awaiting him. Just the opposite – Sikorski's men will accuse him later of deserting from a diplomatic post. As for now he has to find employment (Sikorski dismissed him from service) or continue the journey with his closest family – he is accompanied by his wife Bronisława and daughter Zuzanna. Ultimately they decide to go to the US.
However, they quickly realized that the decision, and its implementation, were two different issues – the condition for obtaining an American visa was to have a visa of any Latin American country. Intensive efforts paid off and soon the whole family had Haitian visas, and somewhat later they obtained temporary residence permits in the USA. Thus Wieniawa became, as his biographer writes, "the first follower of Piłsudski on the American soil". The first so not the last one – in the United States there were also representatives of this milieu, such as Adam Koc (formerly one of the Camp of National Unity leaders), Ignacy Matuszewski (post-1926 Minister of the Treasury) or Henryk Floyar-Rajchman (Minister of Industry in the Second Polish Republic).

Unfulfilled dream of a uniform

Unfortunately, some of the Piłsudskists became involved in the creation of what is known as the "Polish hell" overseas – driven by their antipathy towards Sikorski and his team, they tried to harm the prime minister in various ways. During his visit to the USA, Ignacy Matuszewski and Henryk Floyar-Rajchman were even supposed to spread a rumor among the Poles that Sikorski was about to be dismissed. Wieniawa was against this type of thinking – he rightly believed that in such extraordinary circumstances party disputes should be put aside and there is a need fo cooperation with political opponents, including Sikorskists, in the name of the Polish raison d'état.

In a letter to president Władysław Raczkiewicz, he stated that "we should strive for consent and seek it everywhere and with all efforts, resigning from all […] animosities, which, in fact, are only ghosts of the past in today's Polish reality". He himself did not intend to act in politics – although he did support such projects as the Piłsudski National Committee of Americans of Polish Descent, but mainly out of respect for his colleagues and symbolically. The rest of Piłsudskists did not understand this restraint, but Wieniawa was mostly interested in the army.

The "first cavalryman" of the Second Republic believed that his return to the army was a matter of time. Firstly: because he loved soldiering, secondly – he believed that as a soldier, he would serve his country best. As early as in August 1940, he offered himself to Sikorski by letter as a possible government delegate for military affairs or a representative of the Supreme Command in the USA. At the same time, he suggested that his word meant a lot among Piłsudskists and that, as an official representative of the Polish state, he would be able to curb the anti-government activity of former post-1926 politicians. What did Sikorski say to that?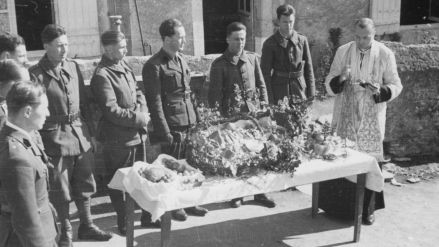 Provisions put aside have waited until their moment. There is choking sadness: what is it for?
see more
It seems that the prime minister and the Supreme Commander did not take Wieniawa's offer seriously for a single moment. He considered him a post-1926 general, and, in addition – friends with Józef Beck, whom he detested. On top of that, there were reports from the "helpful" people – even when Wieniawa was the ambassador to Rome, Sikorski's entourage informed him that the diplomat was undermining government's plans. It was nonsense, of course, but the prime minister listened to such remarks and made sure that almost every Piłsudski citizen was evil incarnate. As a result, he deceived Wieniawa – in October he wrote back that he might be able to offer him a commanding position in Great Britain.

The Road to Suicide

Months were passing by, there was no allocation and our hero became more and more depressed. A letter to Rajchman of August 1941 testifies of these sentiments: "I was not allowed to be a soldier in these difficult times. I have always considered myself and to the end I consider myself a soldier […]. I am almost insane". Długoszowski's frustration was all the more great as he would accept even a subordinate military position, he asked Sikorski to be "admitted in the army, regardless of rank and function". He was met not so much with a refusal as with silence, and his only military episode in the United States was his membership in a Washington cavalry association (formed by the deputy Polish military attaché).

If the plan to return to the army did not work out, what did the Długoszowski family live on? Bolesław had no choice but to work illegally (his visa did not entitle him to work legally), as did many of his colleagues from the First Cadre Company, who ended up in the USA after the outbreak of the war. Initially, he found a job in Detroit, in the editorial office of Dziennik Polski, where he was asked to make reviews of the Polish press and to cut out the most interesting articles for reprint. For such a temperamental person as Wieniawa, this type of job must have been exhausting, but he gritted his teeth and worked there till the summer of 1941.

Then he returned to New York and became interested in artistic bookbinding. It turned out that he was gifted in this field, so bookbinding became another source of income for the Długoszowski family.

Finally, spring 1942 came and unexpectedly Sikorski, who was visiting the USA, invited Wieniawa to a meeting. The conversation lasted about an hour and resulted in Długoszowski's offer to take up the post of Polish envoy to Cuba. On the prime minister's part, it was a cynical movement, calculated to simulate national consent and, at the same time, to set Piłsudskists in America at variance.
Anyway, that's exactly what happened: when Wieniawa agreed to become envoy, he was proclaimed a traitor by the rest of his own community. "He [...], his [Piłsudski's] beloved "Bolek", his confidant, betrayed his Leader. He agreed, made peace with the Commander's greatest enemy!" – Rajchman recalled.

But as a matter of fact Wieniawa mainly wanted to ensure financial stability of his family. He made it, although he hadn't worked as a diplomat for a single day. Haunted by his colleagues and devastated by the Polish occupation, on July 1, 1942, he committed suicide by jumping from the window of his home in NY. However, in official terms he had already become a diplomat, thanks to which Mrs Bronisława Długoszowska was entitled to a pension.

Paderewski's last years

Ignacy Jan Paderewski, who was on the other side of the political barricade, also found his last haven in the United States. Contrary to Wieniawa, the former prime minister (of Poland, in 1919 – translator's note) did not have to worry about his existence – when he had difficulty getting from Switzerland to Portugal (he went therefrom, by ship, to the US), FDR himself intervened. After all, Paderewski was the most famous Pole in the States. It is enough it to say that over 16,000 tickets were sold to his last pre-war concert in New York (in the end it did not take place because the pianist suffered a heart attack!).

On November 6, 1940, on the New York shore, the piano maestro could have had a feeling of déjà vu. He was relatively safe in Switzerland, but, just like during World War I, he went overseas to seek help for Poland. The recipients of these appeals were, on the one hand, the Polish community abroad, and on the other –the entire American society, especially the elite. Paradoxically, Paderewski had more problems with persuading the Polish community. Weird? No, if we know the context that requires going back to World War I.

At that time, thousands of American volunteers joined the ranks of the Polish Army in France (the so-called Blue Army). They did not manage to fight too much upon the Seine, but they hoped to be appreciated at home and included in the fight for the borders of restored Poland. Unfortunately, the fatherland, as admitted by doctor Janusz Osica, "repaid only with beautiful words". Instead of going to the front, US soldiers were demobilized – they were sent to camps, where they waited in decaying barracks to return to the States. The military authorities did not care much about their fate, some volunteers did not get even a penny from the state. No wonder they left Poland with distaste and even revulsion.
This scandal echoed widely in the US and even after 20 years it was remembered by a considerable part of the Polish community there. Paderewski was conscious of the fact – in October 1939 he wrote to general Józef Haller (once commanding the "Blue Army") that "Poles in the US are awaiting a visible sign that the Polish government has changed, that the old errors in relation to the country and the exiles won't be repeated, that their industry and sacrifice won't be in vain". He also cooled down the optimism of Sikorski who was counting on winning volunteers to serve in the Polish Armed Forces.

Unfortunately, this skepticism turned out to be prophetic – only 700 men expressed the will to fight under Polish banners. On the other hand, Paderewski, despite his old age (he had turned 80), lobbied intensively for Poland: he met with people, gave radio speeches, wrote memorials, etc. He was still waiting for the Third Reich to attack the USSR. He then stated that "whoever the gods want to destroy, they first send madness upon him". He died of pneumonia on June 29, 1941.

Tuwim's wartime wandering

From love to hate – this is how Julian Tuwim could describe his feelings towards the United States. At first delighted, even choked with American freedom, towards the end of his stay, he was looking forward to finding himself in communist Poland. This desire, however, came at a price – Jan Lechoń and Kazimierz Wierzyński broke their friendship with Tuwim, and most of the Polish emigrants there considered him to be a persona non grata. "Tygodnik Polski", which was published in New York, wrote that "he is a madman blinded by pride, joining a new Targowica (toponym symbolizing national treason – translator's note)".

The writer's journey to the USA led through France, Portugal and Brazil – when he went upon the Seine after the September defeat, he hoped that the war would soon end and he would return home. He waited for this moment in good company, because other Scamandrites (Jan Lechoń, Kazimierz Wierzyński and Antoni Słonimski) and dozens of Polish intellectuals arrived in Paris with him. He also could not complain about the shortage of money – Sikorski's government provided him and his colleagues with scholarships, and if needed, he could count on the help of the old emigration. As a result of the German invasion of France, the new everyday life – poetry evenings in the Polish Library and social gatherings in the Café de la Régence – fell apart like a house of cards.
Polish pilots were fleeing the communist Poland using military aircraft.
see more
The next Tuwim's stops were Porto, Rio de Janeiro and São Paulo. The presence of Lechoń and "Pan Tadeusz" soothed the hardships of traveling overseas (a third-class multi-person cabin and omnipresent lice). The two Scamandrites left the ship on August 5, 1940, and although the writer was delighted with the capital of the carnival ("Glossy, shimmering, sparkling, dazzling, lacquered [...] half New York, half Paris": Rio), he quickly changed his mind. Soon he complained to Wierzyński that "if you look to your heart's content, you want to puke" and therefore would like to live in the USA.

It was not that easy – the Polish consulate in Rio de Janeiro had visa limits and the average waiting time for the document was six months. Therefore, Tuwim made use of his acquaintance: he contacted the American slavist Arthur Coleman, asking for intercession at the consulate. He also tried to reach his cousin from the States, multi-millionaire Clarence Dillon. He did not forget to write to the ambassador in Washington, Jan Ciechanowski. All these efforts finally pay off, and despite financial problems (friends had to pay for the trip), he and his wife traveled to the States. Direction? New York, where the Tuwim family disembark on May 19, 1941.

How to become a useful idiot of communism?

In the first weeks, America seemed to the author of "Lokomotywa" as a promised land. His letters of that time, among others to his sisters, Irena and Antoni Słonimski, are full of paeans about American society. Of a community, as Tuwim stated, respecting human rights and implementing the ideals of democracy, which should be a model for Europeans. This delight lasted a few more months – at the beginning of 1942 he wrote to Coleman: "I fell in love with this land and these people and this spirit" – but Tuwim was inconsistent in his feelings. He found a new object of veneration – the Soviet Union.

The breakthrough date in his view of the USSR was to be June 22, 1941. After the Wehrmacht attacked the Soviets, Tuwim came to the conclsuion that Poles had no option and were doomed to a military allaiance with the Red Army. At the same time, he appealed to separate the existing Polish-Soviet relations with a thick line – what mattered was the present and the common struggle with the Germans ("we shall break their backbone, wring their necks, tear their guts out, crush their bones, with the fire of this war they will be burned to ashes so that they cannot be reborn".) Only shoulder to shoulder with the Red Army soldiers can we defeat the Nazi beast – he argued.
The idea to normalize relations with the eastern neighbor could be understood, but the outstanding poet unfortunately went much further. He proclaimed that the Bolsheviks not only cared about the well-being of their citizens, but, unlike the United States, they cared about the spiritual development of society. The Stalinist terror didn't distrurb him: "there is some pathos in the Soviets, there is a height of intentions, even it was hunger, dirt, stench and even cruelty that marked the breakthrough occurring there. […] The Reds have always fought for the noblest and noblest things in the world" (a quote from a letter to his sister). He seems to have really believed it ...

Tuwim's fascination with the USSR was accompanied by the slogans of a social revolution upon the Vistula, preferably in the communist version. Indeed, in a post-war Poland pro-peasant and pro-worker reforms were necessary, but the writer forgot that the Polish government (both at home and in London) were co-created by the Polish Socialist Party and the People's Party. Every week he became more and more of a useful idiot of communism – he participated in consecutive meetings of Polish-Soviet friendship and surrounded himself with people like Bolesław Gebert and Oskar Lange (Soviet agents) or Stefan Arski (in the People's Republic of Poland he became famous for his libels against Piłsudski).

For people who didn't endorse communism, Tuwim had only invectives: Tadeusz Bór-Komorowski was a fool, Władysław Anders – a robber, and the Commander-in-Chief, Kazimierz Sosnkowski, "was building the headquarters of Polish fascism in America". He was equally critical of the government in exile – it was supposed to be created by Nazis and anti-Semites who proclaimed the slogan "for your fascism and ours". No wonder that the price for such extreme views was high: in 1944 the government withdrew the benefit granted to Tuwim and became an undesirable person among emigrants. He was aware of this: "95% of the refugees consider me a Stalin's agent(September 1945, letter to Jarosław Iwaszkiewicz). However, he stood by the communists until his death in 1953.

– Tomasz Czapla
– Translated by Dominik Szczęsny-Kostanecki




The quotes used in the text come from the following publications: "Ulubieniec Cezara. Bolesław Wieniawa-Długoszowski. Zarys biografii" by Jacek M. Majchrowski, "Tuwim. Wylękniony bluźnierca" by Mariusz Urbanek, "Ignacy Paderewski" by Roman Wapiński and "Historia polityczna Polski 1939-1945" by Paweł Wieczorkiewicz.