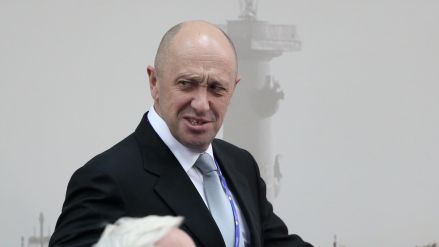 Is a convicted criminal who provided sexual favours to his fellow prisoners going to be the new President of Russia?
see more
Saturday, August 19. State media reports that Putin paid a visit at Rostov-on-Don to the headquarters of the "special military operation" (as the war with Ukraine is officially referred to in Russia), which was also the Southern Military District head office. Prigozhin took this military headquarters on June 23. And it was there, almost two months later, where Putin received a report on the situation at the front from General Valery Gerasimov, Chief of the General Staff of the Russian Armed Forces, commander-in-chief of the Ukrainian campaign. The same person whose dismissal was the flagship postulate of the Wagnerians who seized Rostov and later marched on Moscow. It is hard to find a more demonstrative show of Putin's support for the army commanders attacked so much by Prigozhin.
Moments later, we had two other events that should have been a wake-up call for Prigozhin. A Russian Ministry of Defence delegation landed in Libya to raise the issue - in talks with General Khalifa Haftar - of withdrawing the Wagner troops, stationed under his command for several years, and replacing them with other mercenary groups taken from companies loyal to the ministry department.
SIGN UP TO OUR PAGE
  In Russia, information appeared that General Sergei Surovikin was removed from the post of head of the Russian Air and Space Forces. This general, who was considered Prigozhin's ally, disappeared right after the June coup and probably landed under home confinement.
The three events mentioned above, immediately preceding the attack on Prigozhin's plane, should have been a signal for "Putin's cook" that his time was running out. So why did he disregard them? Moreover, he almost exposed himself to his enemies by taking on board all the most important and loyal commanders of the Wagner Group.
He seems to have fallen into a trap. He lost his vigilance. After the Wagnerian campaign in Belarus, after he flew to Africa, where a de facto he paid loyal tribute to Putin, after his companies received state orders, and he was able to shine on the sidelines of the Russian-African summit in St. Petersburg, I think he really believed that Putin would keep his promise given on June 24. And that was a mistake.
Who needs Wagnerians?
The elimination of Prigozhin in the first place raises the question: what about his business assets? Of course, everyone is probably most interested in the future of the Wagner Group. But after all, Prigozhin also controlled a network of companies providing catering for schools and military units, companies exploiting gold, diamonds and oil deposits in Africa and Syria, several media, and above all, an extensive system of troll internet farms and teams of PR specialists, the so-called political technologists. The question about their future is appropriate as they have been serving the political goals of the Russian state for years. It can be assumed that the regime is well prepared for all the assets efficient takeover.